Rich snippets often don't receive significant focus within people's SEO strategies. They might seem trickier to set up compared to the usual on-page SEO stuff. However, considering the complicated appearance of Google search results these days, it's a smart move to spare a bit of time getting the hang of it.
Adding this content-rich information to your Google search listings grabs attention and can increase click-through rates. Even if you're not the top dog at #1.
What Are Rich Snippets?
Google's rich snippets are enhanced search results that provide more details about a website. This "rich" media encompasses a variety of elements including images, ratings, authorship, dates, locations, and more. Publishers can provide Google with these details by incorporating structured data into the backend of their web pages.
In essence, rich snippets represent a distinct type of Google search result that showcases extra information, such as ratings or reviews, contributing to a more comprehensive display.
This supplementary information is typically extracted by Google from a specialized code, known as structured data markup, which is embedded within the HTML code of the webpage.
Why are Rich Snippets Important?
Most Google search results display three core pieces of information:
Title tag
Meta description
URL
Here's how a typical Google search result appears:
A rich snippet, on the other hand, looks something like this:
In the rich snippet example above, Google expands the search result to incorporate an image, rating, review count, and estimated time.
Such visual enhancements have the potential to capture attention and generate clicks.
How Rich Snippets Help with SEO
While rich snippets don't have a direct impact on a website's ranking within search results, they can yield indirect advantages.
Rich snippets serve to enhance the visual appeal of your pages on the SERPs (search engine results pages), setting them apart from the standard search listings.
This differentiation catches users' eyes, making them more inclined to click on rich snippets, which, in turn, contributes to an enhancement in the organic click-through rate (CTR).
Rich Snippets vs. Rich Results vs. SERP Features
"Rich snippets" and "rich results" are terms often used interchangeably, and Google considers them synonymous.
Both "rich snippets" and "rich results" fall under the category of SERP features. These refer to search listings that display visual or interactive data.
These can encompass ratings, event details, datasets, FAQs, and various other types of information. They can appear on any SERP (search engine results page).
SERP features encompass everything beyond the standard organic listings. This includes featured snippets, map packs, image carousels, and more.
Types of Rich Snippets
Let's start at the beginning. Your first task is to identify the specific Rich Snippet category that suits your goals. This will allow you to apply Structured Markup that's tailored to securing that particular Rich Snippet presentation in the SERPs.
It's worth noting that among the array of Rich Snippet options available, some, like flight information or books, are quite niche and suitable only for certain types of websites.
This is why we'll center our attention on the eight most frequently encountered varieties of Rich Snippets.
Reviews:
These highlight star ratings out of 5. They can originate from individual reviewers or aggregate user feedback.

Recipes:
This is a specialized category for Structured Data specifically related to recipes. You can include information such as cooking time, reviews, and images of the dish.

Music:
If you're dealing with music-related content, this Rich Snippet provides Google with details like album release dates.

Product Markup:
If you're running an online store, this one's for you. It enables search engines to understand key product information like price and product images.

Organisation:
Useful for businesses, this Rich Snippet helps Google grasp essential organisation details such as address, logo, and contact information.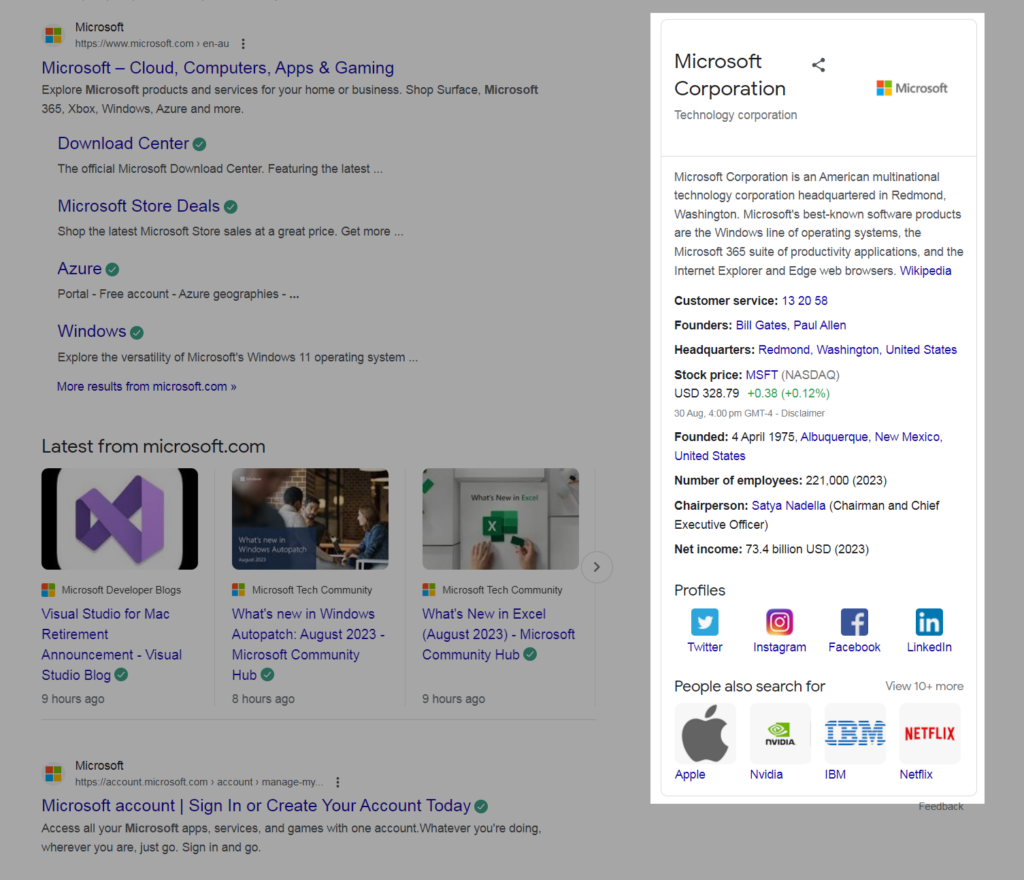 Top Stories:
If your website is Google News-approved, this feature can get you listed in the "Top Stories" section of search results.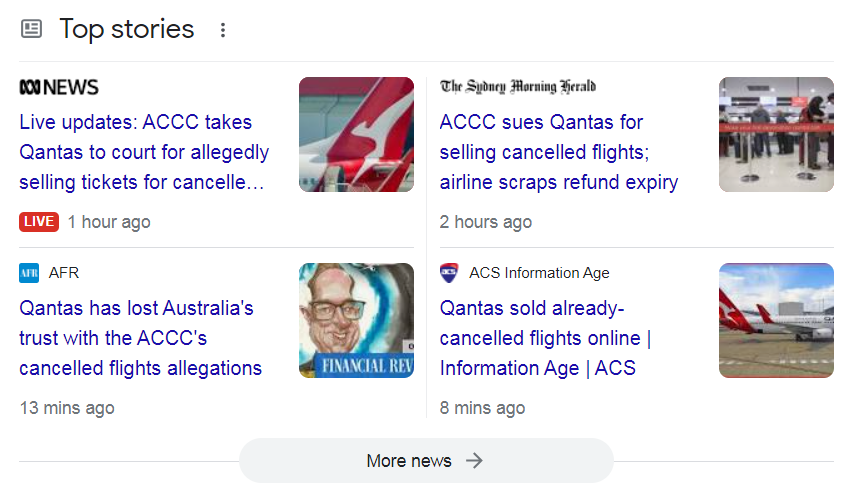 Video:
Since search engines can't watch videos, video markup assists them in comprehending the content of your video material.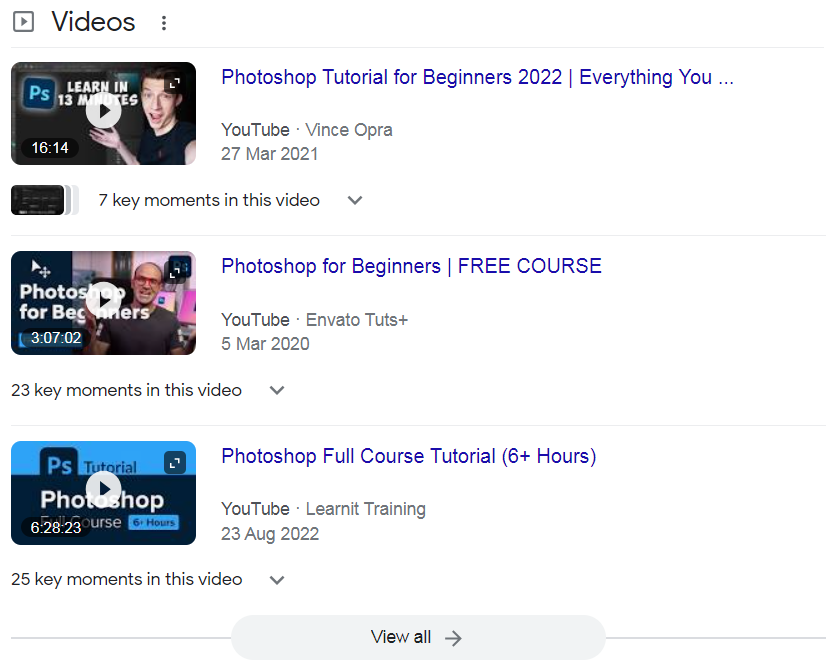 Events:
This one's all about sharing event specifics – dates, times, locations, and more.
Once you've selected the Rich Snippet type that aligns with your content, it's time to put your plan into action.
Create & Add Structured Data Markup to Your Pages
Once you've settled on a rich snippet type that aligns with your website's goals, the next step is to create and insert the suitable structured data markup code onto your web pages.
For this task, Google's Structured Data Markup Helper is at your disposal.
Here's a step-by-step guide on using the tool:
Open the tool.
Choose the desired snippet type and enter your page's URL. Then click the "Start Tagging" button.
For this walkthrough, let's create structured data markup for a product page. The tool will automatically pull your webpage's URL and present it in the "Tag Data" view.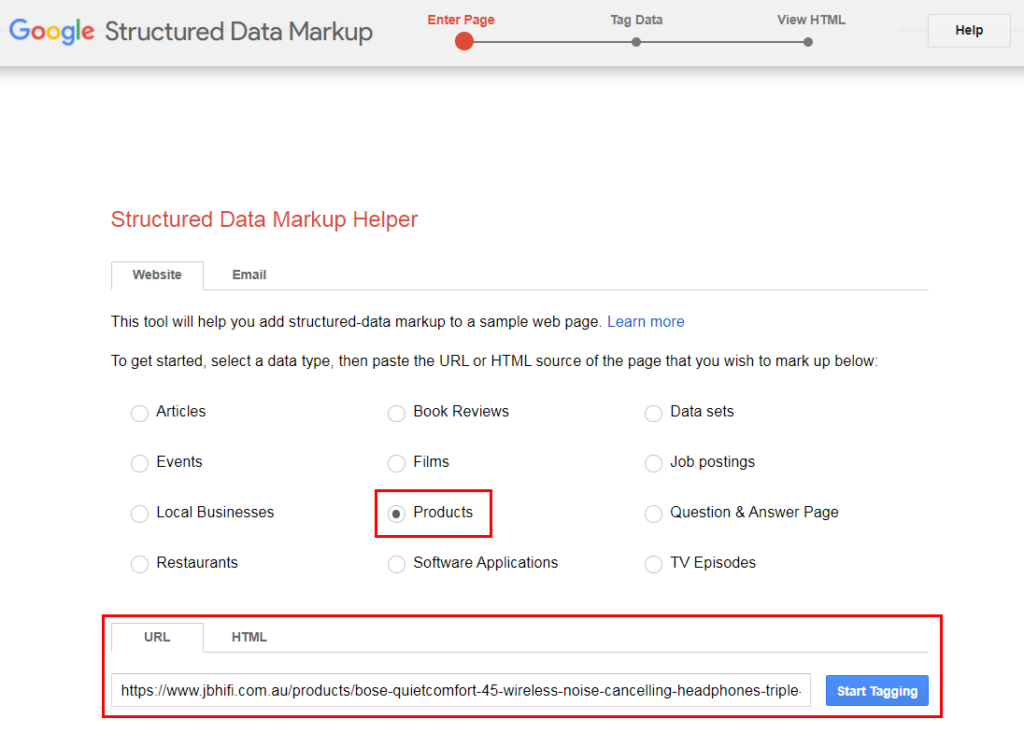 In this scenario, let's consider a product snippet for Bose Headphones. Elements like the product's name, price, image, brand, logo, and more need to be included.
Highlight different elements on your page.
The tool will prompt you to assign tags to these elements.
For instance:
To insert the product's name, highlight the product name, then choose the "Name" tag.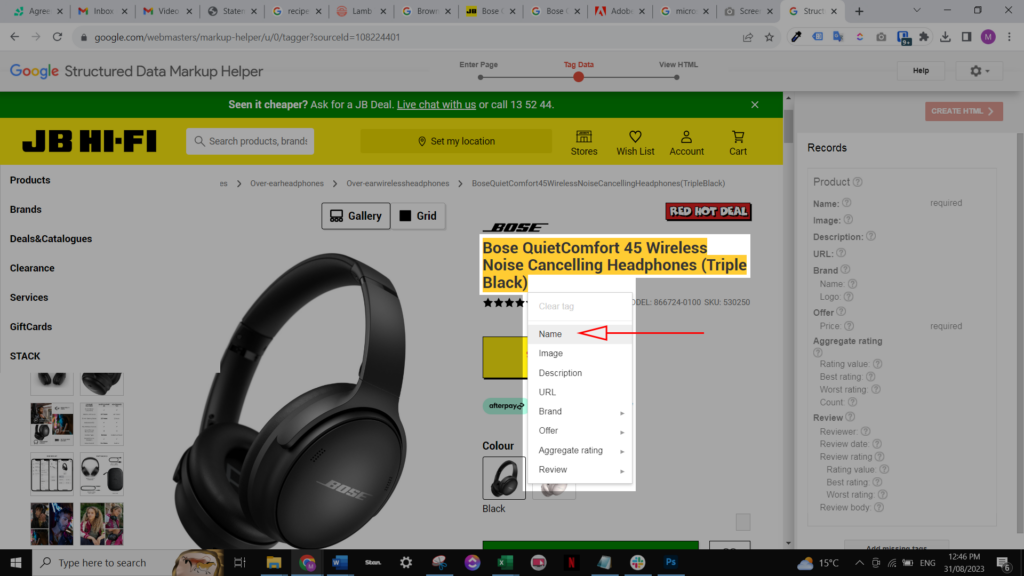 For the price, select the "Price" tag after highlighting the price.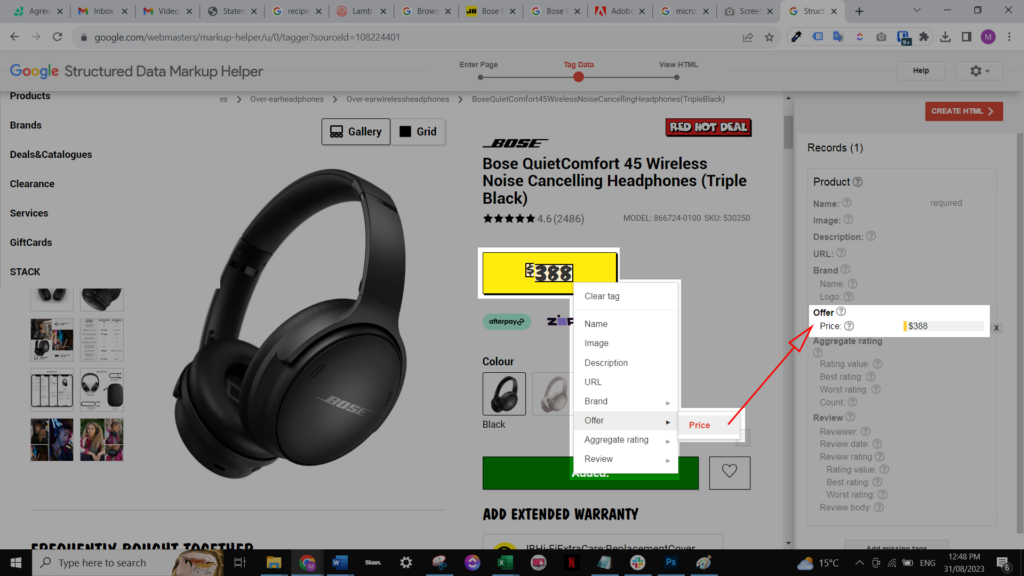 The tool will compile all the tagged information, which will be displayed in the side panel for your reference. Tag as many relevant elements as you can.
Generate structured data.
Once you've finished tagging, click the red "Create HTML" button located in the top-right corner of the screen.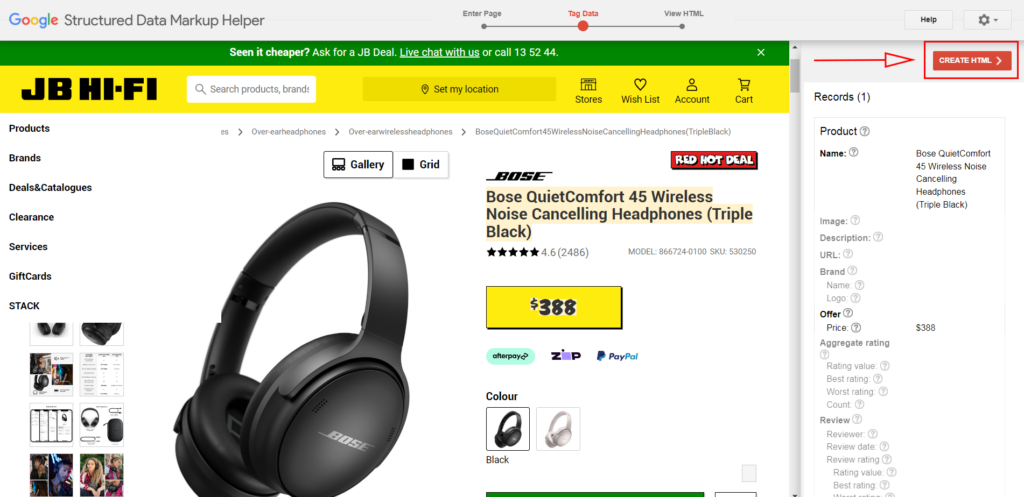 The tool will generate a structured data markup code, visible in the side panel.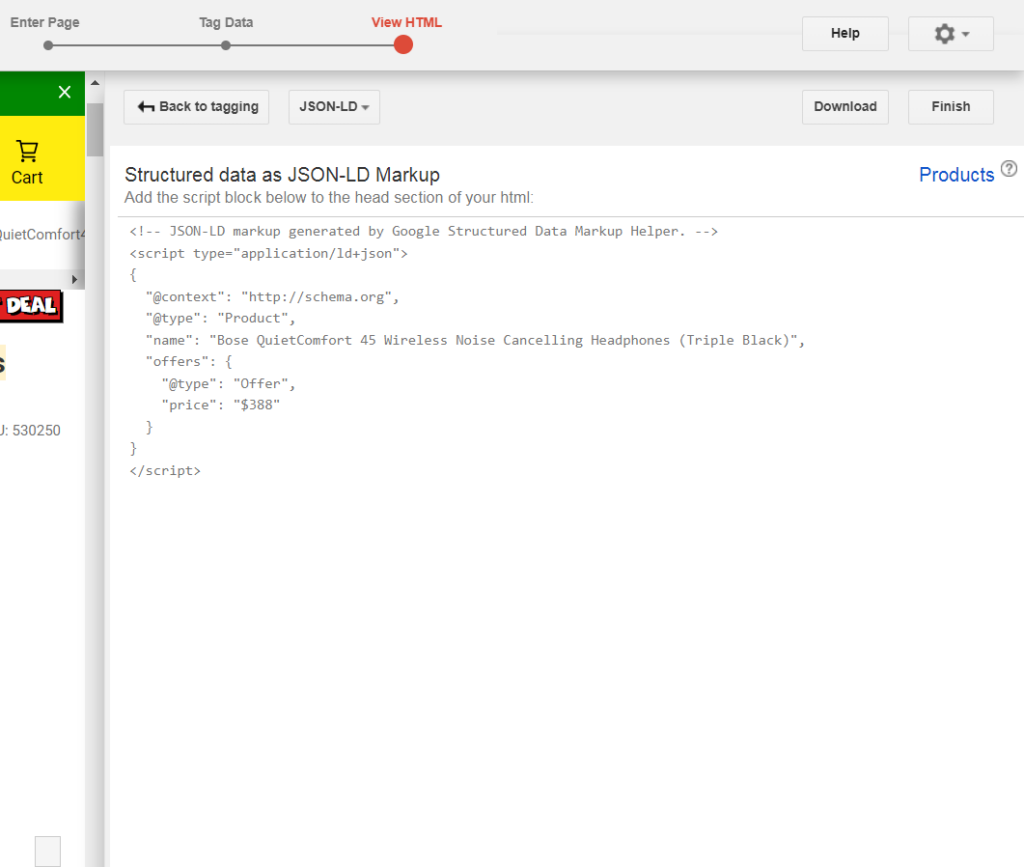 Now, you can either copy the code or download it. Then, paste this code within the <head> section of your webpage.
How to check rich snippets using the Rich Snippet Testing Tool
The final step involves confirming the accuracy of your structured data setup.
Google's Rich Results Testing tool can help you with that.
Input your URL into the tool, then click the "Test URL" button.

The tool will process your URL and display any structured data it identifies in the "Detected Structured Data" section of the results page.

If your markup receives a warning or contains invalid items, you can gain more insight by selecting the rich snippet type linked to that issue:
Example: "Detected Structured Data" section highlighting a single warning.
The tool will highlight any problematic elements that need fixing, including optional fields that are missing.
Note: Even if you've implemented accurate structured data markup without any errors, it's important to understand that Google does not guarantee that your pages will appear as rich snippets.
Ultimately, the decision to showcase a rich snippet rests with Google's discretion.
Need help setting up structured data for rich snippets on your websites?
Our team of SEO experts is here to help. We'll guide you through the implementation of rich snippets, ensuring you make the most of this valuable opportunity. Reach out today to discuss how we can enhance your site's visibility and engagement on search engine results pages with our SEO services.